The Mystics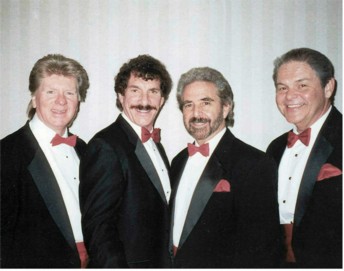 ---
Click To Hear Interview
---
Joe Neary, Mike Miller,
George Galfo(original member of The Mystics)
and Shelly Brill



This group from the Florida area consists of:

George Galfo (Original Member) Recorded songs below with all the other original members: Hushabye, White Cliffs Of Dover, All Trough the Night, Adam & Eve, Sunday Kind of Love, Blue Star, It's Only A Paper Moon, So Tenderly, Again, Star Crossed Lovers, Don't Take The Stars, Darling I Know Now, (I Begin) To Think Of You, Over The Rainbow, Goodbye Mr. Blues and Let Me Steal Your Heart Away
Shelly Brill Former lead singer of So. Florida's "The Fabulons," a 50"s & 60's show band. First Tenor performing in 1977 with the Four Coins of the 1957 hit song "Shangri-La."Performed w/Dick Clark's Child Care Connection for 3yrs, for Oprah Winfrey's private parties on South Beach and House singer for Donald Trump's Mar- A- Lago Club for the last 3 years.
Mike Miller Former lead singer of Harmony Street. Performed at The White House for President Clinton, sang with Vito & The Salutations, with the Islanders on Relic Record label, and with Ron Palillo in movie "The Root of All Evil." He has also sung the National Anthem at Shea Stadium, Yankee Stadium, The White House,as well as at Madison Square Garden among many other credits.
Joe Neary Sang with various local groups such as the Valiants, the Four Surfmen up North and the Paramounts In Calif. Joined local Fla. group Reunion as their First Tenor in 1980. Had the honor of being asked by Dion to do some work for him which lead to becoming the First Tenor for Dion's tour during 1997-1998 and worked on Dion's "Deja Nu" CD featuring the hit song, "Shu Bop (The Lost Track.)"
If you would like to be added to the Mystics mailing list for future notification of upcoming shows please send reply to: THEMYSTICS2002@aol.com
---
Music Lovers have visited this site.
To go back to WillieCs RnB Beach Music Cafe, click HERE.

FastCounter by bCentral

© 2000 WillieCs RnB Beach Music Cafe Last Updated 09/18/2002 7:20pm EDT

Click Arrow to Return to Main Page